7th international conference
Happiness@Work Live!
Thursday, November 25th 2021 in 3D virtual world
Virtual world ticket price: 84 EUR + VAT
Need help with registration or invoice? Contact us on Messenger or call: +420 774 975 914.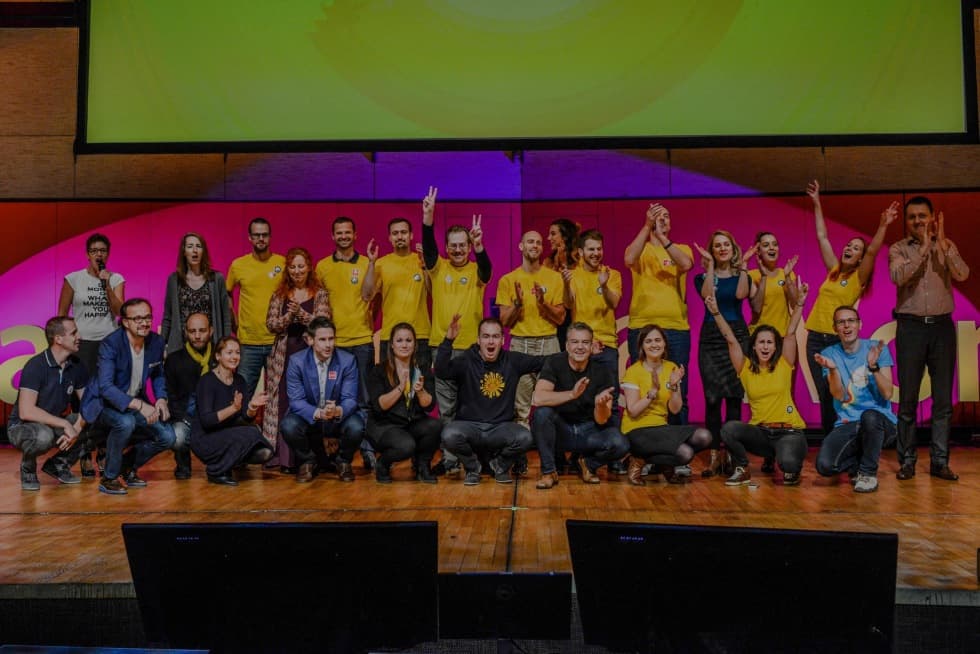 We will be asking great leaders how they prepare their companies and teams in terms of company culture. We will find out what learnings did the last year brought and what we should take from it.
Who are we going to ask "What's next?"
Our great speakers
Conference programme
thursday 25th November 2021, in 3D virtual world
Opening the gates of the virtual world
Welcome and introduction
Michal Šrajer
What we've learned about company culture in tough times
Garry Ridge
How Avast is preparing for future challenges
Ondřej Vlček
How do school directors become leaders?
Libor Pospíšil a Ondřej Lněnička
🤝 Virtual EXPO and lunch time
How to have happier teams
Helen Russell
Notes from a journey to transform corporate culture
Dagmar Suissa
How our purpose drives us everyday at Johnson & Johnson
Tim Vanherck
World Café (interactive discussions)
🤝 Virtual EXPO and coffee time
AI, cloud civilization - how will it change the world of work and how to get ready?
Sara Polak
Building physical and mental resilience
Wim Hof
We are fine-tuning the last details in the program, some details may change a bit.
The event is coming in...
COUNTDOWN WILL BE HERE - DON'T TOUCH :)
Virtual worldticket price: 84 EUR + VAT
Need help with registration or invoice? Contact us on Messenger or call: +420 774 975 914.
The online event will take place in an interactive 3D virtual world.
There you can watch live talks, meet other participants or visit conference EXPO.
7th year
..after six successful years with great speakers from all around the world.
8 hours
..of inspiration at great talks and networking activities.
Thousands
..of excited attendees who visited the event in previous years.
What do they say about us?
Feedbacks we got after the last year's event, which took place also in the 3D virtual world:
Talks are great, online streams and the 3D world as well. I appreciate the courage to organize the event this way. Please continue! We can't wait for the next year already ;-)
- Kristýna
An incredible blast and organization. Thanks a lot! The 3D world was a brilliant substitute for the "real world."

- Míla
Thank you so much! It was incredibly packet and inspiring ❤️ Hats off to the whole team for how you handled it. I applaud!!! 👏👏👏

- Petra
Speakers in past years...